Jurassic World: Dominion Dominates Fandom Wikis - The Loop
Play Sound
"This life is for my friends and for our future."
- 11eyes Resona Forma's slogan.(src)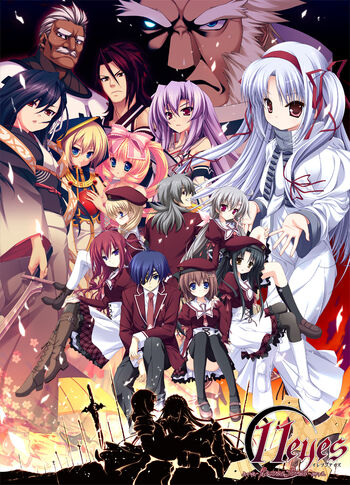 11eyes: Resona Forma (イレブンアイズ レソナ・フォルマ Irebunaizu Resona: Foruma, lit. 11eyes: Resonating Form in Latin) is an 11eyes fan disc which has been announced for release at Fall 2010. Expanding from the past to present events of the previous games, this installation provides the player with more insight into the story of 11eyes.
The initial release date for 11eyes: Resona Forma is March 25, 2011. However, due to the earthquake at the Pacific Ocean, the release date is moved to April 15, 2011.
Story Arcs
Before Story
In 1945, Georgius of the Rainbow, the infamous saint of the Holy Office of Index was summoned before pope Johanna to discuss matters concerning the Witch of Babylon, who was heading for Japan. Believing her cause to be evil, Georgius and his subordinates set out on a mission to Japan to stop her before it's too late.
The story retells what happened in Ayame Hill before the Punishment Squad became the Black Knights.
After Story
The After Story tells the events of each route that the player chooses. The After Story contains romance of the heroine and Kakeru. There is Kukuri's, Yuka's, Misuzu's, Yukiko's after story, respectively, and also a Shiori's after story. Takahisa's after story includes a family reunion with his sister, Ema, and his mother, Kayano, and he and Yukiko became a couple after they confessed their love for each other. The after story also has more H-scenes in each after story.
"If" Story
In an alternate timeline, Verard's assassination attempt in 1459 failed, but Lieselotte left Drasuvania, leaving the king alone. Five years later, he decides to turned back time to save Lieselotte from her cruel fate of becoming a witch.
The Eye of Aeon brought him to the year of 1209 where he met the pure Lisette, Lieselotte's true self. Verard saved her from being violated by the crusade. Although his fate of dying in battle did not change, this time the king was satisfied as his death finally had some meaning.
Seven years after the battle, Lisette tells the story of Béziers, as well as the heroic story of the knight who saved her to the children.
Music
Main article: List of 11eyes albums
Opening theme song:
Juujika ni Sasagu Nanae Ensou by Ayane
Ending theme song:
Promotion Movie
Part 1
 	 	   

Part 2
 	 	   

Part 3
 	 	   

Part 4
 	 	   

Part 5
 	 	   
 	 	   

Part 6
 	 	   

Part 7
 	 	   

Part 8
 	 	   

EmbedVideo received the bad id "[[Category:Game]]" for the service "youtube".