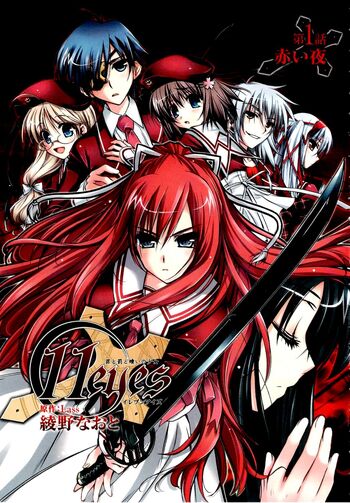 A manga adaptation of 11eyes illustrated by Naoto Ayano began serialization in the October 2009 issue of Kadokawa Shoten's Comp Ace magazine. The plot is based closely on the game, but follows Misuzu Kusakabe's route instead of the true ending in the game.
The manga consisted of three volumes making twelve issues in total.
Volume list
Volume 1:
Issue 1- Red Night
Issue 2- Kusakabe Misuzu
Issue 3- The Dark Knight and the Fragments
Issue 4- Determination
Issue 5- Fierce Fight
Volume 2:
Issue 6- For Friends and Tomorrow's Sake 
Issue 7- Kusakabe's Blood
Issue 8- Moving World
Volume 3:
Issue 9- Kusakabe Misao
Issue 10- Lieselotte Werckmeister
Issue 11- Reality
Issue 12- End
Gallery
Trivia
An English translation of the 11eyes manga is available on mangahere.com.
The beginning of the Manga translation calls the Black Knights, 'Dark Knights'. It eventually returns to calling them Black Knights as it progresses.
Acedia's fight with the characters is not shown as it was in the anime or the visual novel.
Takahisa in the anime and manga are incredibly different in personality as one is more likeable. However, both suffer the same fate.
Community content is available under
CC-BY-SA
unless otherwise noted.