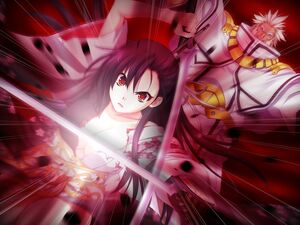 Tenken Kusakabe (天剣草壁 Tenken Kusakabe; lit. "Heavenly Sword Kusakabe") is one of Misao Kusakabe's most powerful technique. It is the result of Ryouichi Kusakabe's research being integrated with Misao's personal research, utilizing both Western gramary and Japanese Onmyoudou to be realized. This technique requires Misao to use her dual swords, Onikiri and Kumokiri, to open the gate to another dimension. The enemy's attack will be absorbed into the gate, then be released back to the enemy, making it a perfect counter against unblockable and untouchable attacks. It still depends on the surprise element to be successfully executed, however.
In the Before Story arc, Misao used this technique to protect Georgius of the Rainbow from Lieselotte Werckmeister's Omnium Principia, an attack so deadly that nothing touches it still remains. As Lieselotte shot her attack, Misao used Tenken Kusakabe to absorb the fireball into another dimension, then released back to the witch, buying Georgius enough time to execute his forbidden technique on Lieselotte.
Community content is available under
CC-BY-SA
unless otherwise noted.